A Glimpse of Timeline Development of Dholera SIR and Delhi Mumbai Industrial Corridor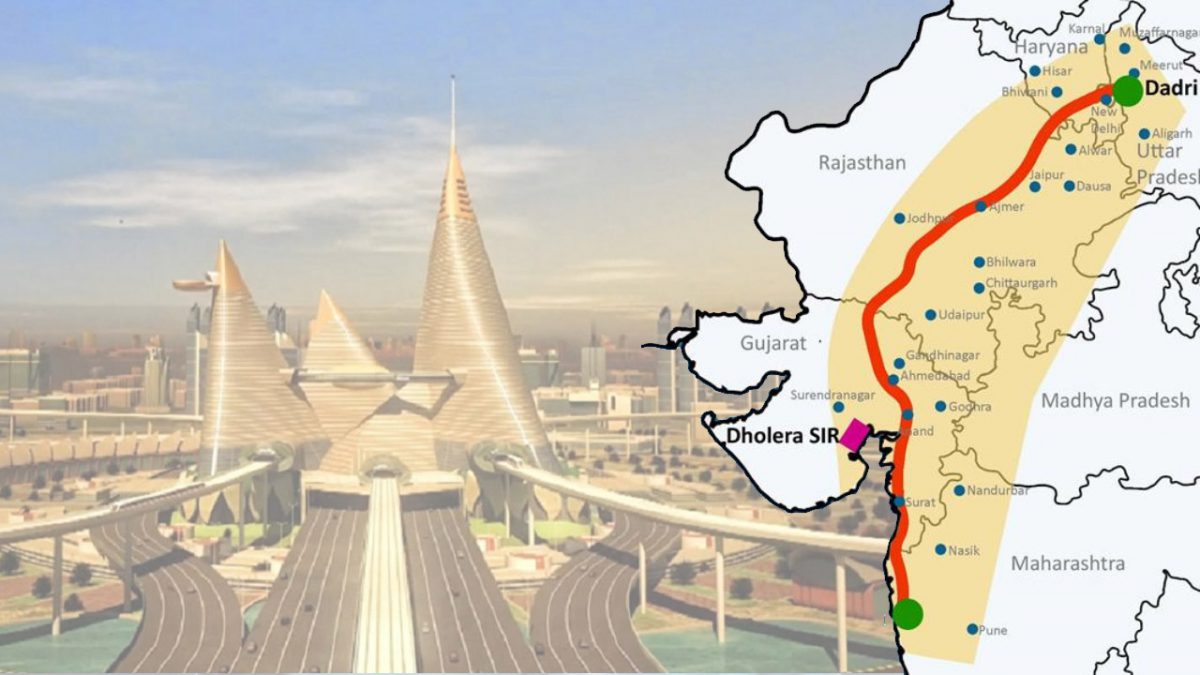 SIR and the formulation of Gujarat Special Investment Region Act-2009
Dholera SIR is a concept similar to the special economic zone. SIR term is a unique term applied in the state of Gujarat, India. SIR refers to a proposed investment region with an area of more than 100 sq. Km or Industrial Area with an area of 50-100 sq. km declared by the government of Gujarat under Section 3 of the Gujarat Special Investment Region Act-2009 as SIR to establish the world-class hubs of economic activity.
The Gujarat government has enacted a legal framework for the SIR – The Gujarat Special Investment Region Act-2009 (GSIR -2009) which has come into effect from 6th January 2009. It has been formulated to regulate and manage large size investment regions and industrial area in the state of Gujarat accompanied by world-class infrastructure.
DSIRDA and Dholera SIR Act 2009
Dholera Special Investment Region Development Authority (DSIRDA) has been formulated under the Dholera SIR Act 2009. It has the responsibility of planning and development of DSIR along with administering government land within DSIR.
Glimpse of Dholera Villages in Town Planning Schemes.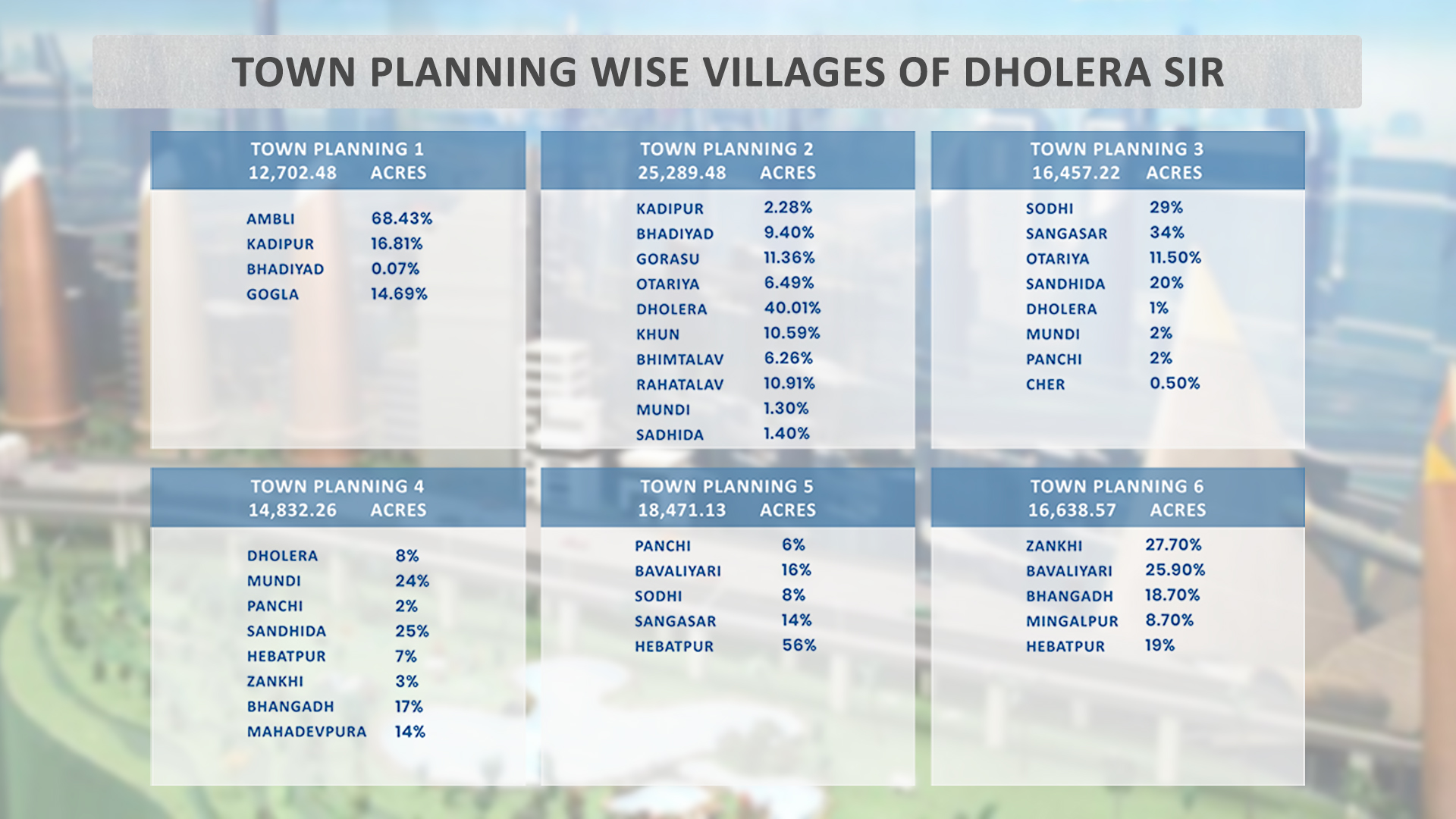 Now Let's take a brief look at Timeline Development of Dholera from 2009
In 2009, Dhoera SIR Act gets passed marked by the formulation of DSIRDA in 2010. In 2012, Dholera SIR Development Plan sanctioned along with Town Planning 1 and Town Planning 2. In the same year Town Planning 3, 4, 5 and 6 submitted to the central authority of Gujarat by Gujarat Infrastructure Development Board (GIDB).
The below image provides the clear insight about the same: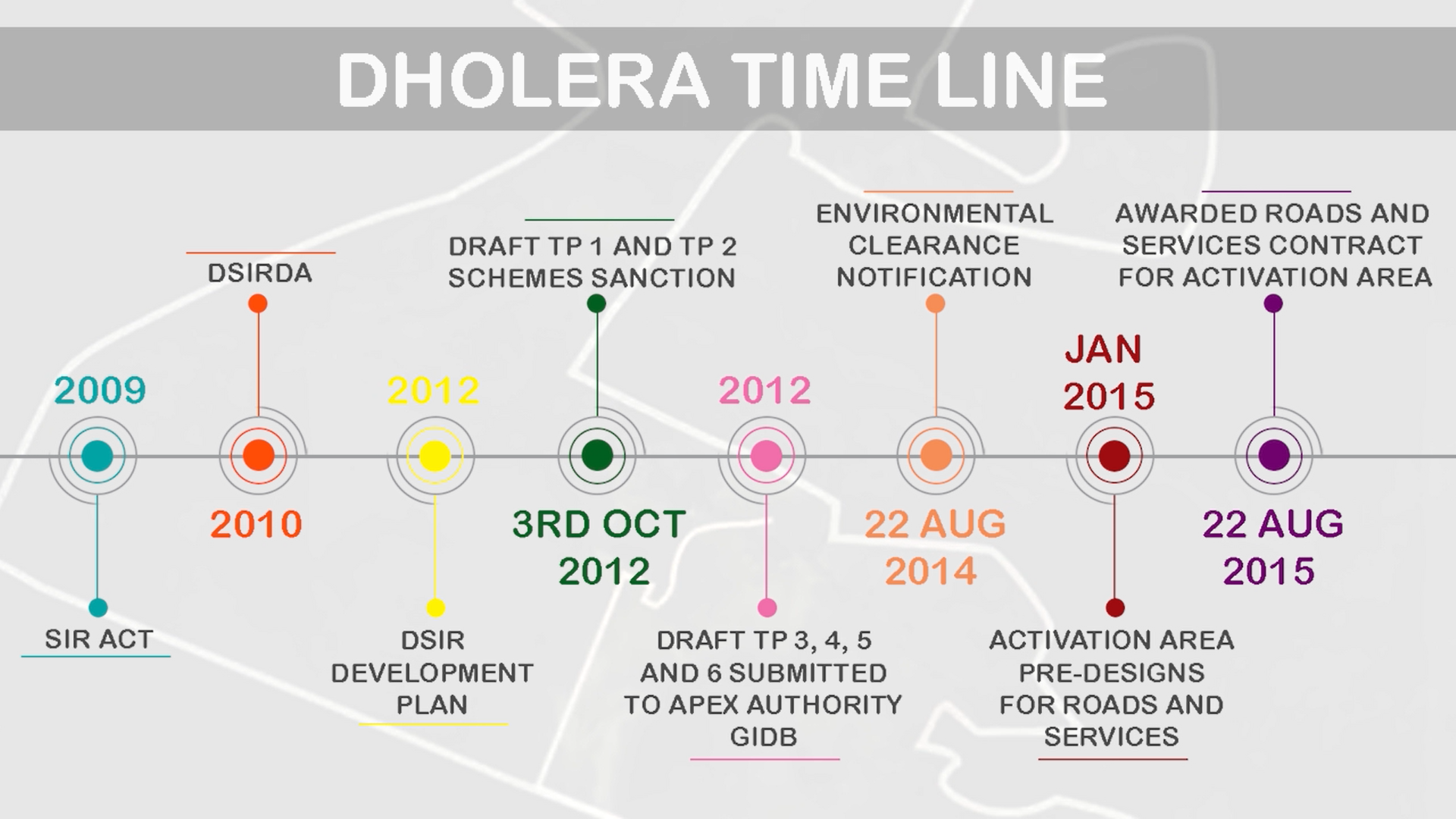 In 2016 an Special Purpose Vehicle named DICDL has been created between the central government (DMIC) and state government(DSIRDA) with a stake of 49% and 51% respectively.
From 2015 to 2020 major developments are going in Dholera by reputed companies like L&T Limited, TATA, Cube Construction Engineering Ltd. and many more.
Delhi Mumbai Industrial Corridor (DMIC) To NICDC (National Industrial Corridor Development Corporation Limited.
The Delhi–Mumbai Industrial Corridor Project (DMIC)is a well planned industrial development project between India's capital, Delhi and Mumbai. For launching the DMIC project in 2006, the government of India has signed MoU with the government of Japan. The project has received a major boost from India and Japan, due to an agreement to set up a project development fund with an initial size of ₹1,000 crore. It is one of the world's largest infrastructure projects with an estimated value of US$90 billion.
It includes 24 industrial regions, 8 smart cities, 2 international airports, 5 power projects, 2 mass rapid transit systems, and 2 logistical hubs. The 8 investment regions proposed to be developed in Phase I of DMIC are Dadri – Noida – Ghaziabad (in Uttar Pradesh), Manesar – Bawal (in Haryana), Khushkhera – Bhiwadi – Neemrana and Jodhpur – Pali – Marwar (in Rajasthan), Pithampur – Dhar – Mhow (in Madhya Pradesh), Ahmedabad – Dholera Special Investment Region (in Gujarat), and Aurangabad Industrial City (AURIC) and Dighi Port Industrial Area in Maharashtra.
DMIC : Education and Employment Generation
Many institutes are planned along this corridor such as IIT, IIM and Birla Institute of Technology for imparting education to the Indian students. The labour availability across the state where the project passes through is quite high. So the government has the aim to triple the industrial output and generate 3 million jobs mainly in manufacturing segments.
Delhi Mumbai Industrial Corridor Development Corporation Limited (DMICDC)
Dholera Industrial City Development Limited (DICDL) has been created between the Central Government (DMICDC Trust) and the State Government (DSIRDA) of Gujarat to implement the project Delhi Mumbai Industrial Corridor Development Corporation Limited (DMICDC).
DMICDC has been formulated for the promotion of DMIC. However after the announcement of more industrial projects in India for developing more industrial corridors its name has been changed to National Industrial Corridor Development Corporation (NICDC) Limited.
The Government of India has initiated National Industrial Corridor Development Programme with the foremost aim of developing the new Industrial City accompanied by Future Generation Technologies. NICDC is mandated to undertake project development activities like Investment Regions, Industrial Areas, Economic Regions, Industrial Nodes and Townships, Integrated Manufacturing Clusters, Stand-Alone Projects, Early Bird Projects for various Industrial Corridor Projects.
The National Industrial Corridor Programme includes the following Industrial Corridors:
1. DELHI MUMBAI INDUSTRIAL CORRIDOR (DMIC)
2. CHENNAI BENGALURU INDUSTRIAL CORRIDOR (CBIC)
3. AMRITSAR KOLKATA INDUSTRIAL CORRIDOR (AKIC)
4. EAST COAST INDUSTRIAL CORRIDOR (ECIC) WITH VIZAG CHENNAI INDUSTRIAL CORRIDOR (VCIC) AS PHASE 1
6. EXTENSION OF CBIC TO KOCHI VIA COIMBATORE
7. HYDERABAD NAGPUR INDUSTRIAL CORRIDOR (HNIC)
8. HYDERABAD WARANGAL INDUSTRIAL CORRIDOR (HWIC)
9. HYDERABAD BENGALURU INDUSTRIAL CORRIDOR (HBIC)
10. ODISHA ECONOMIC CORRIDOR (OEC)
11. DELHI NAGPUR INDUSTRIAL CORRIDOR
The goal of establishing National Industrial Corridor is to make India as a "Global Manufacturing and Trading Hub". NICDC has undertaken various Project Development activities like Preparation of Master Plans, Feasibility Reports, Detailed Project Reports etc. It acts as an intermediary for the purpose of development and establishment of infrastructure projects. As far as employment is concerned this project will double the employment potential of India by generating millions of job opportunities for the Indian population. It will establish the future foundation for the Industrialn Industrial Corridor by ensuring overall growth of the economy in all Indian states.
Total Page Visits: 5901 - Today Page Visits: 1