Constructing futures to bring Dholera SIR into a Multi Trillion Dollar Greenfield Smart City.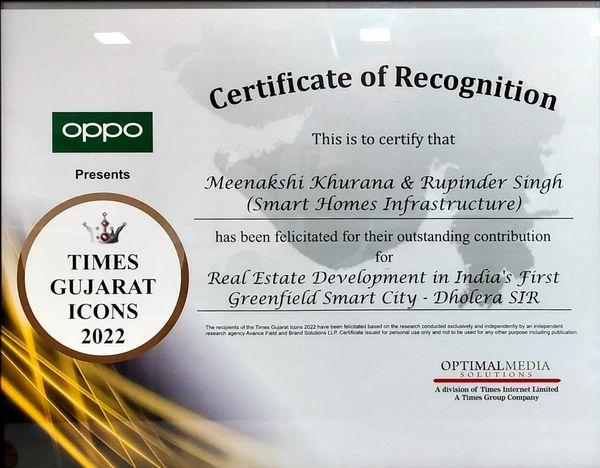 #SmartHomesDholera, the leading real estate developer in Dholera SIR wins the "Times Gujarat Icons 2022 Award" in the Real Estate Development Segment for promoting the "Multi Trillion Dollar City – Dholera Greenfield Smart City", the dream project of our Honourable PM Shri Narendra Modi, as the Rising Star, the Pride of Gujarat and Second Biggest Greenfield Smart City Globally.
Truly honoured and Privileged to get acknowledgement from Madam Dr Nimaben Acharya, Speaker of Gujarat Assembly, Shri Sanjeev Ambrish Mehta Sr. BJP Leader & Ms. Amyra Dastur, Bollywood Star.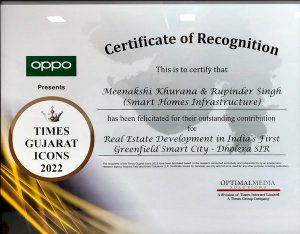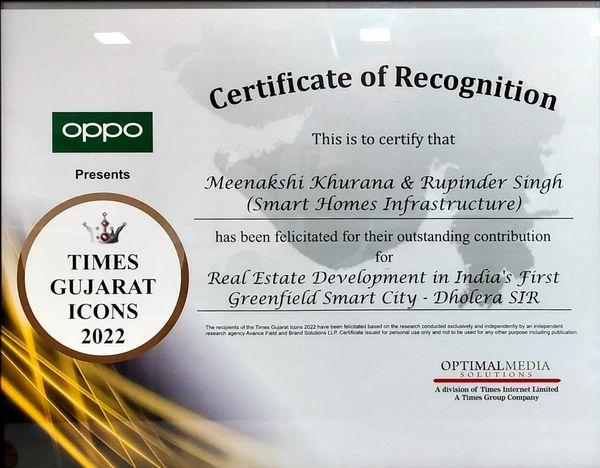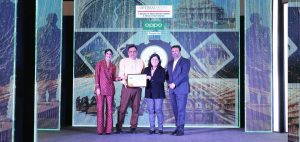 The joy of creating homes in a self sustaining smart city has captured SmartHomes Infrastructure, a prestigious real estate company in Dholera SIR, ways back its journey since 2014 with all its grand beauty and now it is the most creative developer of Dholera SIR, committed to being a dominant part of Dholera Greenfield Smart City. 
Founders Meenakshi Khurana, Vijay Kumar Wali and Rupinder Singh, are successfully leading the company with over 1000 Acres of Land Parcels under asset management, to fulfill the Greenfield Smart City dream into reality and be a leading developer in Dholera Smart City.
Smart Homes plans to build 100,000 homes by 2042 in the Greenfield Smart City, the smart city has the potential to create 800,000 jobs and the Greenfield Smart City is being developed with an infrastructure to home more than 2 million people by 2042.
Dholera SIR, India's First Greenfield Smart City and the biggest node of the DMIC corridor, the SmartHomes team believed in the concept and started working in the direction of making the city a smart and sustainable green city.  It strives to implement its first phase of the smart city project in India at Dholera SIR spanning the land of 920 sq km. It's a dream project of then Chief Minister of Gujarat and current Prime Minister of India Shri Narendra Modi.
This project will highlight an International Airport, Metro from Ahmedabad to Dholera, buildings constructed in City Centre Zone, Knowledge & IT Zone, High access Corridor, Residential Zone and Tourism & Resort Zone. The current value of land is around Rs. 3,000 per square meter is expected to touch Rs 2,00,000 per square meter by 2042.
Total Page Visits: 30929 - Today Page Visits: 3