Where to invest: Greenfield Dholera SIR or Bitcoin?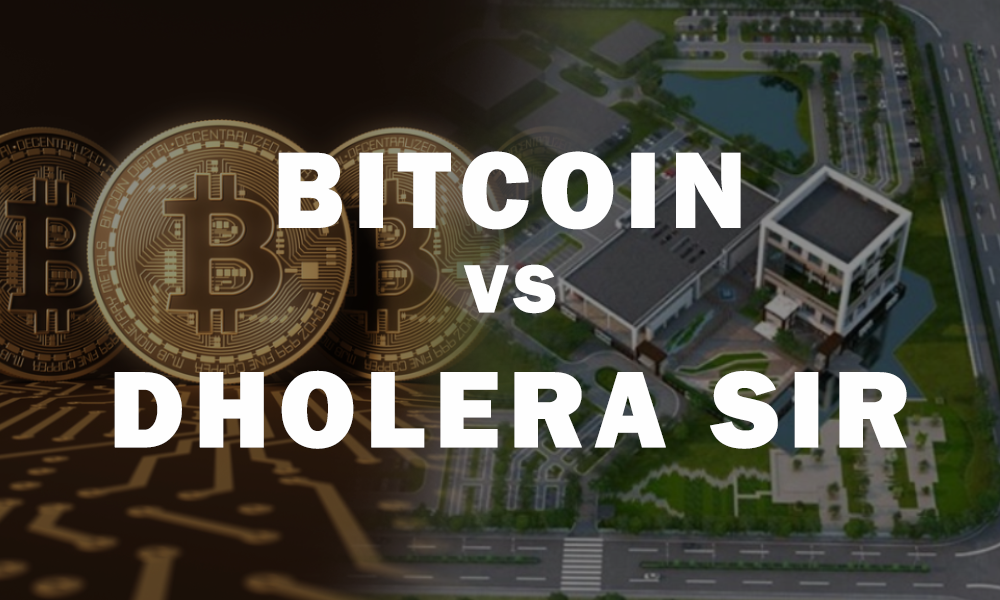 Dholera SIR vs Bitcoin?
MicroStrategy CEO says Bitcoin's Market Cap will reach $100 Trillion.


Dholera SIR to become a multi Trillion Dollar Smart City in Real Estate asset value, says Meenakshi Khurana, SmartHomes Infrastructure Pvt. Ltd.
Bitcoin is a digitalized currency launched in 2009 The Bitcoin price has continued to witness the boom and at the same time
Dholera SIR
is also attracting multibillion dollar investments from Indian government and multinational companies despite global pandemic wreaking havoc on all significant economies.  
Dholera SIR – India's First Greenfield Self sustainable Industrial Smart City was announced in year 2009 and it is projected to have the developable land sized 422.42 sq. km that will grow from zilch to multi trillion USD value in Real Estate assets thus offers exponential returns on land purchased and has much lesser risks than investing in Bitcoin and altcoins.


Investment in Dholera SIR or Bitcoin both offer mouth watering returns but one needs to understand the underlying risks involved while investing in these opportunities.


Bitcoin value can be reduced to Zero any time or can get exponential rise. It can go either ways.


Bill Gates had said that "If you have less money than Elon Musk, you should not invest in Bitcoin and Altcoins", because the nature of investment is considered highly risky. Also Rakesh Jhunjhunwala said "I won't buy it for even $5".


On the other hand, Dholera SIR India's first biggest & fastest growing Greenfield smart city is on one of the major nodes of DMIC and a passionate dream of Hon'ble PM Narendra Modi.


All attention is being given by the central and state government of India in the development of the Greenfield Smart City from scratch. 250 Meters wide
Ahmedabad Dholera Expressway
is the spinal cord of Dholera SIR. The Multi Trillion dollar city will be built on both sides of the expressway.  It has Town Planning Roads, Metro Rail, Dholera International Airport, management of the entire city from ABCD Building and Trunk Infrastructure.
86% of the total planned work in Activation Area work as declared by Sh. Vijay Rupani CM, Gujarat. As per the Forbes magazine, Dholera SIR is one of the fastest developing cities across the globe.


When it comes to Bitcoin, The Bitcoin price could surge as high as $300,000 in the latest bull-market rally but then plunge 90% into a "winter" lasting years, the founder of the crypto currency exchange BTCC said.


However, Bobby Lee says that "bull-market cycles come and go," adding that "after a bull-market peak inevitably it could go down by quite a bit, and that's when the bubble bursts."


At the same time steady investments in Real Estate of
Dholera Smart City
has a the potential to grow from mere ₹2,000 to ₹200,000 per Sq Meter based on the infrastructural development that is happening in Dholera and it is adding value to the land of Dholera year on year.
Dholera SIR will provide multiple returns on investment because the smart city is being developed from scratch. One can see 100 times increase in returns in the investment if stayed invested till 2040.


When it comes to Bitcoin, the Bitcoin bubble is driven by huge amounts of stimulus and the price crash may happen similar to the 2017 cash, when Bitcoin plunged below $4,000 from about $20,000 in just over a year.


Moreover, The Indian government may even consider banning Bitcoin and other Crypto currencies. It may even go an extent of blocking IP addresses of crypto currency exchanges or companies dealing in crypto currencies.
Investment in land has always been the passion of Indians, they have always believed in investing in land as the value of land never depreciates and is safer than investing in stocks. Moreover, there is no Earth 'B'.
"Ninety percent of all millionaires become so through owning real estate." As said by Andrew Carnegie.


Conclusion:


In Dholera SIR land is constantly appreciating to the next level due to its high demand and limited supply. Consequently, the rising population and migration always influence high property returns. The final money multiplier for all Resident Indians &
NRI Investors in Dholera Greenfield Smart City
will break all records of enchasing maximum ROIs beating even crypto currencies like Bitcoin and Ethereum.
About the Author 


Ms.
Meenakshi Khurana
, Managing Director of Smart Homes Infrastructure, one of the most trusted renowned brands in Dholera SIR offers investment options across various zones like Industrial, Commercial and Residential.
Prioritizing innovation accompanied by numerous
land parcels in Dholera SIR
with the prime focus in town planning 1, 2 & 11 sub-TPs is sure to bring investors in Dholera Real Estate space. Established in 2014, Smart Homes Infrastructure emerged as the major player in Dholera SIR.  In the last few years, it has built high stature by fulfilling the quality parameters and trust of their investors. 
Smart Homes Infrastructure mainly deals in Commercial, Industrial and Residential NA Lands & Projects.


Disclaimer – These are personal views of author based on her own research and experience of working in Dholera. Views may vary from person to person so kindly do not form any opinion without doing your own research or due diligence.


Contact Details:-
Meenakshi Khurana (MD), SmartHomes Infrastructure Pvt. Ltd., meenakshi@smart-homes.in, +91-7096961250
Total Page Visits: 16069 - Today Page Visits: 11